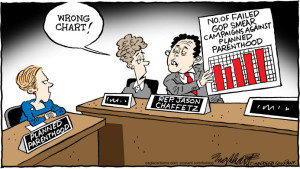 Fresh off engaging in McCarthyism tactics at last week's Planned Parenthood committee hearing Inquisition in which he embarrassed himself by getting caught red-handed using a bogus chart created by Americans United for Life, an anti-abortion group, Planned Parenthood Head Shuts Down GOP Chair Over Abortion Chart (VIDEO), Rep. Jason Chaffetz has announced that he will challenge House Majority Leader Kevin McCarthy for House Speaker.  The man has no shame.
The Hill reports, Chaffetz announces bid for Speaker:
Rep. Jason Chaffetz (R-UT) on Sunday announced his intention to run to replace outgoing Speaker John Boehner (R-OH).
"Today, here, I am announcing my intention to run for Speaker of the House of Representatives," Chaffetz said on "Fox News Sunday."