I have been meaning to get around to the judicial retention portion of the ballot, but luckily Lisa Loo, president of the State Bar of Arizona, had an op-ed in the Arizona Republic last week that does the job for me. My Turn: Do judges justice. Finish marking your ballot: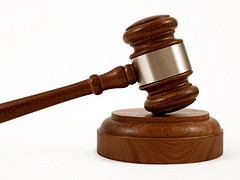 You're not done. Gather up your strength and finish the ballot.
There are state, county and city issues where your vote will make a difference. After all, the recent Congressional District 5 primary race was decided by just 27 votes.
And while you're voting, I ask that you not skip the judges who are on the ballot.
Focus on qualifications, not politicking
It may be something you've avoided in the past. You wanted to make an informed vote but you just didn't know anything about the judges.
Don't panic. There's an easy way to get the information you want. Just go to www.azjudges.info.
Here's a little background. In Arizona's three largest counties (Maricopa, Pima and Pinal) judges are chosen through a process called merit selection. In fact, it was Arizona voters who chose this system back in 1974. Up until that point, judges campaigned for election, which meant fundraising and politicking.
Voters felt there had to be a better way, and that's how merit selection was born. Judges apply, show their qualifications and get interviewed by a panel that includes 10 public volunteers, five lawyer volunteers and an Arizona Supreme Court Justice. That panel makes a recommendation to the governor, who makes the final choice.
The process allows voters to have the last word. After a judge has been in office for a period of years, he or she must face a retention election. It's a chance for the public to determine whether that judge stays on the bench.