Well this didn't take long. Don't say that I didn't warn you this would happen, because I did. Foreign Payments to Trump Firms Violate Constitution, Suit Will Claim: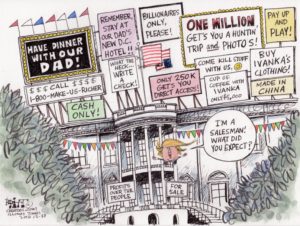 A team of prominent constitutional scholars, Supreme Court litigators and former White House ethics lawyers intends to file a lawsuit Monday morning alleging that President Trump is violating the Constitution by allowing his hotels and other business operations to accept payments from foreign governments.
In the new case, the lawyers argue that a provision in the Constitution known as the Emoluments Clause bans payments from foreign powers like the ones to Mr. Trump's companies. They cite fears among the framers of the Constitution that United States officials could be corrupted by gifts or payments.
The suit, which will not seek any monetary damages, will ask a federal court in New York to order Mr. Trump to stop taking payments from foreign government entities. Such payments, it says, include those from patrons at Trump hotels and golf courses; loans for his office buildings from certain banks controlled by foreign governments; and leases with tenants like the Abu Dhabi tourism office, a government enterprise.
"The framers of the Constitution were students of history," said Deepak Gupta, one of the lawyers behind the suit. "And they understood that one way a republic could fail is if foreign powers could corrupt our elected leaders."