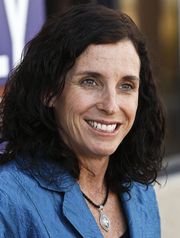 It received little notice in the local Tucson media last week, but Rep. Martha McSally (R-Tucson) delivered the Republican response to President Obama's regular radio address on Saturday. The topic was fighting ISIS.
Currently there are 80 Members in the U.S. House of Representatives who are Veterans. Veterans in Congress (114th). Somehow, Rep. McSally deems herself a "national security expert" based upon her service as an A-10 pilot in the Air Force. If previous military service is all it takes to be deemed a "national security expert," then the other 79 members of Congress who are veterans, and millions of veterans who are not members of Congress, are equally "national security experts." This notion is absurd.
Let's break down what Rep. McSally had to say. Rep. Martha McSally Urges Obama Administration to 'Step Up' in Fight Against ISIS in Weekly Republican Address:
"Our thoughts and prayers are with the people of Paris as they recover from last week's horrific terrorist attacks. While we mourn this tragedy, let us be reminded those attacks could have happened here. This is not to instill fear, but to remind us to be vigilant. That's why we're calling on the administration to step up, provide global leadership, and put together a coherent and aggressive strategy to defeat ISIS.
"I need no reminders about the threats we face. Before being elected to Congress, I served 26 years in the U.S. Air Force, retiring as a full colonel. I was the first female fighter pilot to fly in combat and the first to command a fighter squadron in combat in U.S. history. In my career, I flew 2,600 flight hours, including over 325 combat hours in both Iraq and Afghanistan. I deployed to the Middle East and Afghanistan six times, serving in leadership positions for the initial air campaigns in Iraq and Afghanistan and counter-terrorism ops in Africa.